WirrAleRob experiences IndyMan Beer Festival
I'd heard about it for months. Most of my friends were going and finally at the last possible moment I finally managed to get hold of one of those boxes of
Brewdog
Russian dolls. Nestled within like the precious amber nectar and printed on a seemingly ordinary piece of A4 paper was a ticket to the sold out Saturday evening session of
IndyMan
Beer Festival. Well 4 days, 2 bus rides, one crowded train ride and a box of vegetarian sushi later (a whole other story for another time), I found myself outside the incredible Victoria Baths in Manchester queuing up for the IndyMan.
I have to say that besides being a bit of a beer festival veteran I was initially a little overwhelmed when I first got inside. Gone were the paper beer tokens, replaced by plastic disks (strongly resembling cheap poker sets). Gone instantly was the crowding that existed in the surprisingly self-disciplined queue and in its place was left a little confusion as exactly where to find the first beer on my list was which unsurprisingly was abandoned the second I found my way to the first bar.
Room two was the first room I experienced, where the layout seemed to guide you to and what was probably the largest of the rooms, though maybe this is due to the lack of the Victorian features which flank the neighboring rooms. Immediately I was hit by the most amazing smells as lining both sides of this room was an array of enticing food stalls. At either end were the two bars and I immediately plumped for a
To Øl
FrostBite
at a more reasonable 6% deciding to leave the stronger beers for later.
After meeting up with some friends I then decided to explore a little further where I located the green room, appropriately named due to its large amount of green tiles. Personally I think that Evil twin missed an opportunity to go with naming it the Envy room, but it was this room that presented both a highlight and the biggest disappointment of the evening.
Looking for inspiration while desperately clawing through the beer list, I heard the server use the words "Dangerously drinkable 9 percent" to sum up
the
Toccalmatto Yellow Monster imperial Radle
r. What else can you do in that situation but to just try it and although it was not to everyone's taste, I found it invigorating. A refreshing pale beer with an intoxicating aroma that I thoroughly enjoyed drinking and gave me a chance to explore another room. It was delicious and as dangerously drinkable as described!
Looking for sourness I found my way to Room 3 which I was surprised to discover that the bar and tables were located deep within a now empty Victorian swimming pool. A temporary ramp had been put in place to allow you to safely enter and carpet to ensure that it was not slippery. Sadly the beer I was searching for Sour Alphonso was not on at that time, so I plumped for a
Magic Rock Salty Kiss
– a pale sour beer with a caramel and a salty balance to it.
Bumping into the seemingly unstoppable
Mad Hatter crew
who were a like kids locked accidentally locked into a sweet shop (trying as many different things as they could) we returned to the Green Room where this time after much discussion I plumped for the not very strong, yet surprisingly expensive
LoverBeer Madamin
which was described in the program as "
too exciting for words
". Sadly for me it was I found the beer confusing with hardly anything to make it stand out. A description of "
simply not worth the larger cost
" would have been more appropriate. It's always good to remind people that the most expensive beer is the necessarily best.
Two fairly quick beers in succession followed back in the deep end of the swimming pool, where I plumped for the
EvilTwin Normander Weisse,
an increasingly popular style as well as
the one cask beer I sampled
Black Jack (Deerhunter Saison… I think).
Finally needing more than alcohol I decided to refill my glass with a beer to sip while waiting in a queue for food so I decided to plump for the 10.6%
Tool Sort Mael
. While milk stout is undergoing somewhat of resurgence my only regret with this beer is that I needed more of it to leave it to warm to experience how the flavours changed. I found it a little too muted when cold, but still very drinkable
It actually took me well over half the evening before I discovered the outside area and what would probably become my favorite place of the night. No it was not the Brewdog bar which hosted the most expensive beer of the evening, or even the smoking area. It was the
HonestCrust Wood fired pizza company
with their portable wood burning oven. Delicious toppings and a cost far under the quality they were delivering, the steady queue for these amazing treats was testament to the rave reviews that they were receiving. I patiently awaited mine chatting friendly twitterati
before hunkering down in a Victorian changing room like Gollum to devour "my precious.s.s..."!
Looking again for inspiration I headed back to Room 1 away from the music to try and find something new to tickle my fancy, where I came across
Brew by numbers 14/01 Tripel Mosaic .
This was a beer that did not fail to deliver either on aroma or taste, but by this point I had lost my marking sheet and subtle reviews from this point are well and truly out of the window.
Thankfully I still remember the beers, so my final beers of the session were
Evil Twin Imperial Doughnut Break
as well as a recommendation from my friends of the
Red Church Super Duper Export Porter
(love the name) and after
saving up some precious tokens I finishing the night with a 12%
SirenTickle Monster
Triple IPA.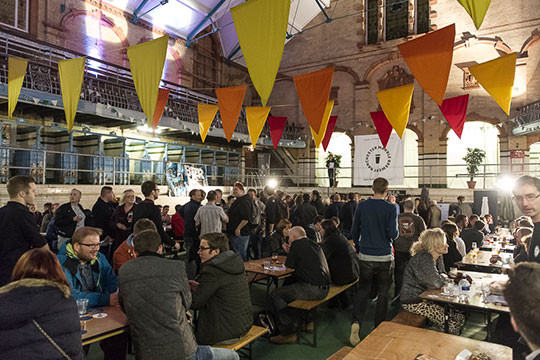 Sadly we had to leave far earlier than we wanted but leaving early is better than either sleeping rough or paying for a taxi. The near 2 mile walk back to Manchester Oxford road station for the last train home gave our heads some time to clear and was actually a welcome relief. All that was left was to contemplate just what a fantastic beer festival this was and to work out just how many sessions to revisit for next year!
Though not without fault, I found the program overly cumbersome and the tokens an annoyance, mainly through always having to hold two cups made worse by having holes in all my pockets. For me, I honestly believe that the paper token approach is better mainly as they take less room freeing up your other hands for more important things. As stated, I was also initially overwhelmed by the confusing layout, but when acclimatised actually feel that the roomed approach works far better than I expected. I liked that there was a wide range of both cask and keg on at all times highlighting the best of both worlds, however not every beer was on throughout meaning you often had to check back to find your preferred beers.
The massive eclectic choice of beer, the range of food and the chance to mingling with friends, fellow beer lovers, bloggers, brewers and better halves (who all seemed to be making the most of what could easily become an overwhelming choice), really helped make this one of my most enjoyable experiences in a beer festival. I know understand why their tickets were so in demand.
IndyMan returns between Thursday 8th and Sunday 11th October 2015 . Will I go back? Well in the words of a film famous American Senator "It's simple, if it jiggles, it's fat."
Can I offer a large amount of thanks to the fabulous font of beer knowledge Duncan who kindly offered me the ticket. I am eternally in your debt